Ghost Hunt at Golden fleece York 13 March 2010 - North Yorkshire
Wednesday, 6 January 2010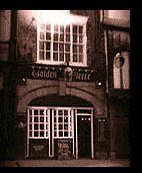 Item details
City:
North Yorkshire, England
Contacts

Colin

07805 119 601
Item description
The ultimate ghost hunting company Ghostly Endeavours have put together a spectacular night of ghost hunting. Some details of Golden Fleece York are below for your information.

Hauntings at The Golden Fleece. 13 March 2010
Ghost Hunt with leading experts Ghostly Endeavours...
The Golden Fleece is one of the oldest coaching inns in York and early records confirm its existence as far back as 1503. The Golden Fleece stands directly opposite York's most historic and picturesque street, the Shambles. The rear yard is named after Lady Alice Peckett whose husband, John, owned the premises as well as being Lord Mayor of York around 1702. This really is one of the scariest places visited by Ghostly Endeavours...

Over the years the Golden Fleece has gained a reputation as being most haunted by over fifteen ghosts. During World War 2 a Canadian airman fell to his death from one of the upstairs windows and then took up residence and remains here to this day.

In the bottom bar a ghost named One Eyed Jack has often been seen. Jack wears a 16th/17th Century red coat and carries a pistol. In the same bar the ghost of a grumpy old man is often spotted sitting in one of the alcoves, and if you should take your drink and beat a hasty retreat to the top bar, there is no escape. The top bar is haunted by the ghost of a young boy from Victorian times. He was trampled to death by the horse that pulled a brewers dray.

Both The Shambles Room and Lady Peckett's room are frequented by the ghost of an old woman, who may, or may not, be Lady Peckett herself. St Catherine's Room is haunted by the ghost of a woman in black and Roman Soldiers have been spotted in the downstairs cellar which at one time was used as a temporary storage place for dead criminals until their nearest and dearest came to claim them.

Ghostly Endeavours have the whole building for the investigation for a very exclusive ghost hunting & paranormal investigation... The night begins with a special tour of the building with psychic/medium detailing real-life experiences and historical information researched by our experts.
This will set the scene before you are joined by experienced paranormal investigators and mediums to try and experience ghostly and paranormal activity in one of the most haunted buildings in the country. Full use of Ghost Hunting eqipment provided for you, the now ghost hunter

The ghost hunting starts at 10: pm leading on to the tour of this haunted building then the vigils begin, you will now be ghost hunting and seeking that which is beyond.
Please note; strictly for the over 18s only.
Refreshments and snacks are provided throughout this ghost hunting event.